wow, I am so moved by
this story
. Illness, a sweet child, a family in need, a mothers pain, LOVE.
Heather over at The
Extraordinary
Ordinary is donating $1 for every comment made on her blog post
We get by with a little help from our friends
. Please drop by and comment....every little bit helps.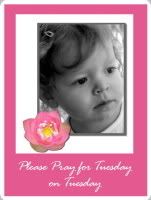 *update* Tuesday past away on January 30. Donations are still being collected to help her family through the challenging times that lie ahead.